EXTENDE announces the release of TraiNDE UT, its new tool for UT operator training.
As a trainer in Non-Destructive Testing, are you having difficulty in diversifying your mockups (shapes, material, flaws)?
Do your students have difficulties understanding the physics of wave propagation, the beam shape, or the zone coverage ?
Are you looking for an innovative and affordable tool to help you during your workshops?
TraiNDE will enhance your NDT teaching thanks to virtual educational tools. You will be able to pool application cases while storage is much easier than storage of mockups, instruments, and probes.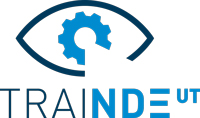 TraiNDE UT is a virtual tool associated with a signal database which simulates real inspection conditions for numerous applications (Type A/V1 block, DAC block, welds and plates).
This NDT educational tool, developed in Région Nouvelle Aquitaine (France), is aimed at the training centers, universities and companies with internal training and certification needs.
The educational functionalities:
zone coverage,
section view, etc.
will help you share your knowledge of Ultrasonic Testing.
The variety of application cases help to acquire a number of skills such as detection,
cascade procedure, sizing and characterization of indications.
TraiNDE UT is delivered with 11 virtual components (6 plates, 3 welds and 2 educational blocks) plus their calibration blocks (V1 and DAC) packaged in exercises.
You can also customize your TraiNDE UT :
Create/edit your exercises
Buy additional components in our store (under construction)
Buy custom bases for you own components and application cases (please contact us)
PRICE per unit*
*Price for EU, contact us for other countries


Deliveries starting in September 2019.
EXTENDE has 10 years of international expertise in NDT simulation (UT, ET, RT) working on industrial projects for production, and on research projects with technical and scientific objectives.
The EXTENDE team is mainly composed of experts (PhD, L3 certified). Their priority is to improve everyone's skills and the quality of NDT tools.
Attentive to the application of field problems, aware of the industrial stakes, EXTENDE creates and proposes new tools for operator training, certification, continuing professional development, and understanding the physics of NDT.